Read how to recover a deleted file in Windows, when it is possible to do it, how to find lost files or recover files from a backup, etc. Such a case can happen to each of us. You deleted the file, and only then you realize that you hurried. And you urgently need to get this file back. In this review we will try to explain in which cases you can return this file and how to do it.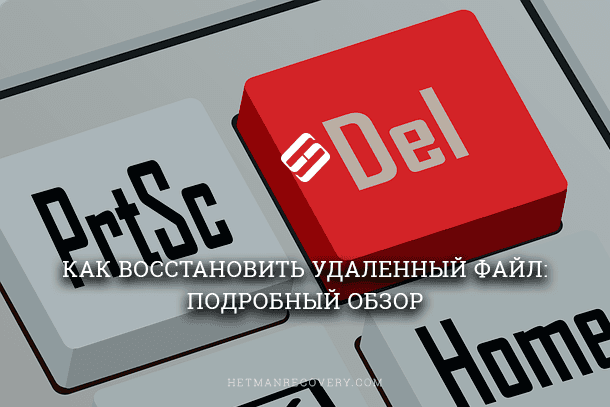 Content:
Is the file really deleted?
Check your backups.
Magnetic hard drives and solid-state drives.
The safest way to recover a deleted file.
Quicker, more risky way to recover deleted file.
Professional data recovery.
Protection against deletion.
Earlier we considered possible tools for recovering deleted files, but we tried to make this review more complete. We will consider all the important points that you need to know to successfully recover deleted files.
Is the file really deleted?
If you are not sure that you have finally deleted the file, be sure to first try to find it. Search for a file in the "Explorer" . Perhaps you just moved the file to another location and you can find it again.

Be sure to check out the "Cart" . You can perform a search in the "Recycle Bin" using the search bar in the upper right corner of the window. A search can really help if you haven't cleaned your Recycle Bin for a long time, and you have too many files there.

You can also right-click in the "Recycle Bin" window, and then select "Sort" - "Date of deletion" to more quickly view recently deleted files.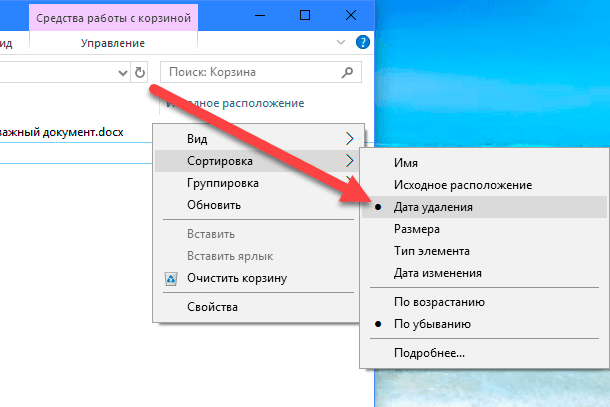 The main thing is to make sure that the menu item "Properties: Recycle Bin" does not have the mark "Delete files immediately after deletion, without placing them in the recycle bin" . Otherwise, your "Trash" will always be empty.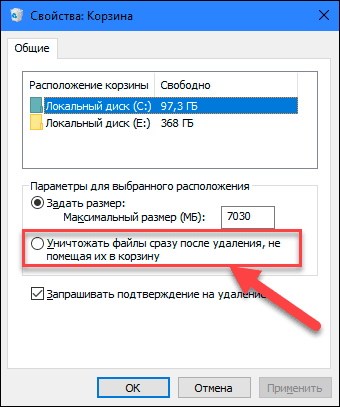 Note There are third-party programs, such as "CCleaner" , which, by default, clear the contents of the "Recycle Bin" at startup. Therefore, if "CCleaner" (or another similar program) automatically runs in the background, this may prevent you from quickly recovering files from the recycle bin. In CCleaner and other applications, you can disable the automatic recycle bin on startup. Therefore, you should remember about this possibility if you do not want to empty the trash automatically.
If your file has been saved to a cloud storage service, such as Dropbox , Google Drive, or OneDrive , be sure to sign in to your account on the service's website and check your deleted files there — perhaps your file is still available for recovery. This is the cloudbox version of the dropbox .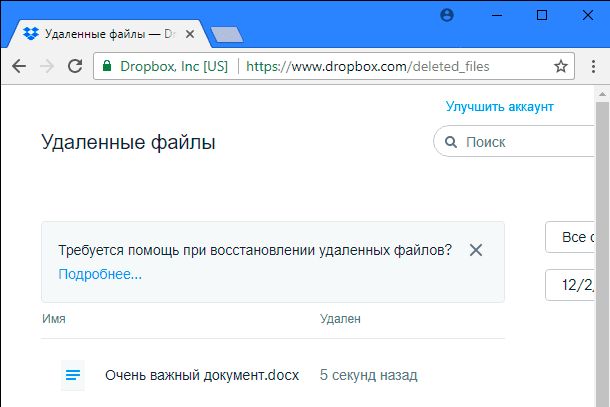 Check your backups
You should make regular backups of your most important files so you don't lose critical data if your files ever go missing. If you have a backup, now is the time to check it for the presence of the desired remote file. If you do not have a backup, then you need to do it. Windows has good built-in backup tools. In particular, the tool "File History" useful for quickly recovering deleted files from older versions of it, but by default it is not included. It is necessary to enable it, having previously configured the folder for saving files.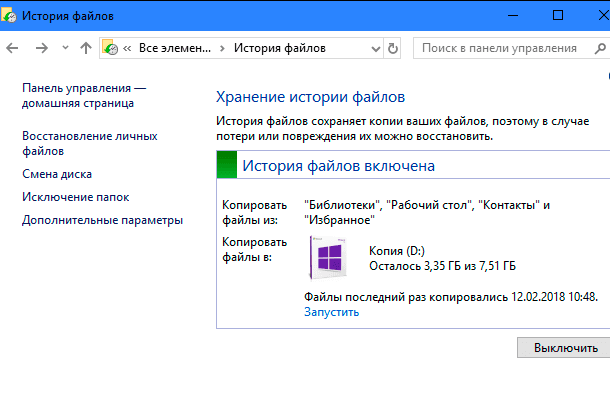 Magnetic hard drives and solid state drives
If, after completing all the steps, you still could not recover the desired deleted file, then the only way to get it back is to use file recovery software . However, there is some bad news: on some computers this may not be possible.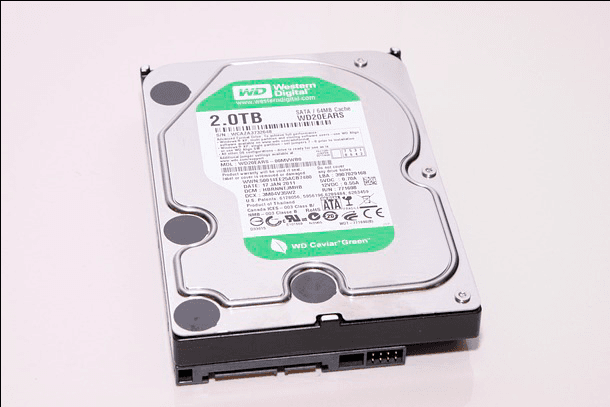 Traditional magnetic hard drives and solid state drives work differently. When you delete a file on a magnetic hard disk, its data is not immediately deleted from the disk; instead, only the pointer to this data is deleted. And the computer understands that the place where this data was located can be used to record other data. Therefore, it is possible to scan the hard disk for deleted files and restore those that have not yet been overwritten.
When a file is deleted on a solid-state disk, this file is immediately deleted by the "TRIM" command in order to free up space and ensure reliable writing to the disk in the future. That means you can't recover data deleted from SSDs - once files are deleted, they disappear. Older solid-state drives and older operating systems, such as "Windows Vista" , do not support the "TRIM" command , while more modern solid-state drives and "Windows 7 - 10" do not support the "TRIM " command .
The safest way to recover a deleted file
If you delete the file on the magnetic hard disk, the most correct solution is to turn off the computer immediately. If you continue to use the computer, there is always a chance that the data of the deleted file may be overwritten. Even if you just install the file recovery software, the installer may write new data over the deleted file data on your hard disk.
When the computer shuts down, you must boot from the recovery CD or USB drive, or remove the hard drive from the computer and place it on another computer as an additional disk. The main thing is to completely prevent the possibility of any recording on your disk. Use the file recovery program to scan the disk, and I hope you can find the deleted file. If you recently deleted the file and did not write anything else to the disk, then you have a good chance to restore it. If after the deletion of the file it took some time, and you continued to work with the disk, then the probability of restoring the desired file is significantly reduced.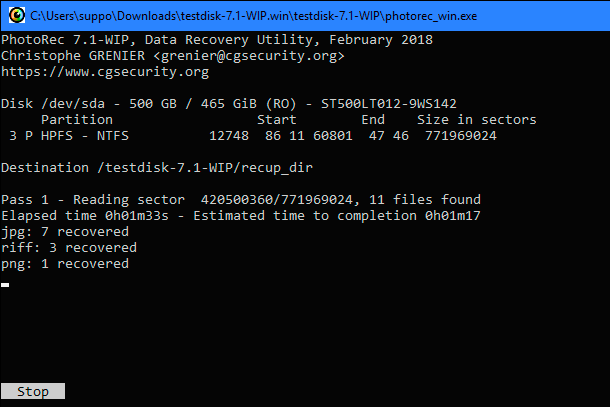 We have reviewed the use of the Photorec tool here.
A quicker, more risky way to recover a deleted file
If you want to return a deleted file, but do not want to make additional efforts, there is a simpler, but more risky way. Just install the file recovery program, for example "Recuva" , from the creators of the popular application "CCleaner" . Use this application to scan a hard disk and search for deleted files. Then, restore the necessary file if the recovery program could find it.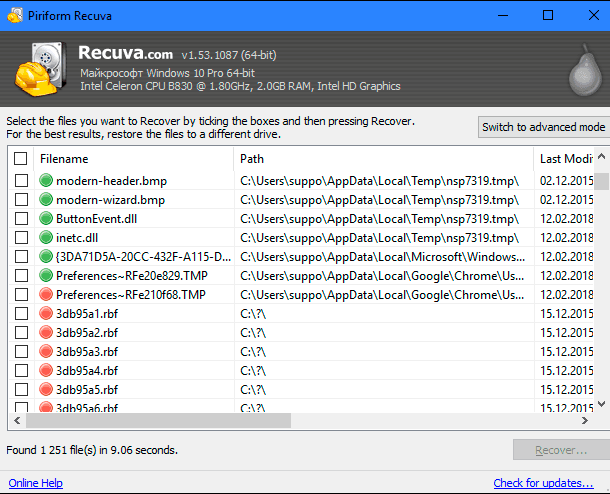 This method is more risky because it involves writing to disk. When you install a tool such as "Recuva" on a disk, it is likely that you will overwrite the deleted file with new data from the "Recuva" program . It is also possible that other programs running in the background can write to disk and overwrite data marked as deleted. Partial overwriting of a deleted file is enough, and it may become completely damaged.
Professional data recovery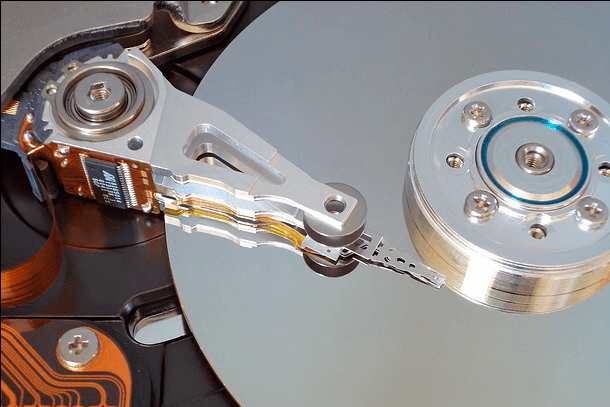 If the data is too important, and you do not have saved backups, and you could not recover the data using other methods, then you can use the services of a professional data recovery center. First of all, turn off the computer if it is not already disconnected. The longer a computer is running, the more data will be written to its hard disk and the less chances of recovery of your data.
Professional data recovery centers deal with all kinds of problems: from deleted and overwritten files to corrupted hard drives that need to be disassembled and repaired. These services can be extremely expensive, so they are not the ideal solution. However, if you have critical data that cannot be restored or replaced, and you are ready to pay for such a service, then this is your option. Of course, such professional centers cannot guarantee anything - they may not restore your data. But you have to be prepared that you still have to pay for the work done, regardless of the result.
Protection against removal
The best way to ensure that you never have to restore a deleted file is to perform regular backups. The usual inclusion of the File History or File Backup or Restore features for your version of Windows will give you some protection. In the case of deleting a file, provided you regularly save backups, you will not lose much data. The chance to get a copy of a deleted file from a saved backup is much higher than after restoring it again. In addition, backup services are much cheaper than professional data recovery center services.
The deleted file does not necessarily disappear forever. but it is not always easy to recover. As SSDs are increasingly used in new computers, applying the correct backup procedure becomes even more important.
Is the file really deleted?
Is the file really deleted?